Minimise the appearance of the discoloration of melasma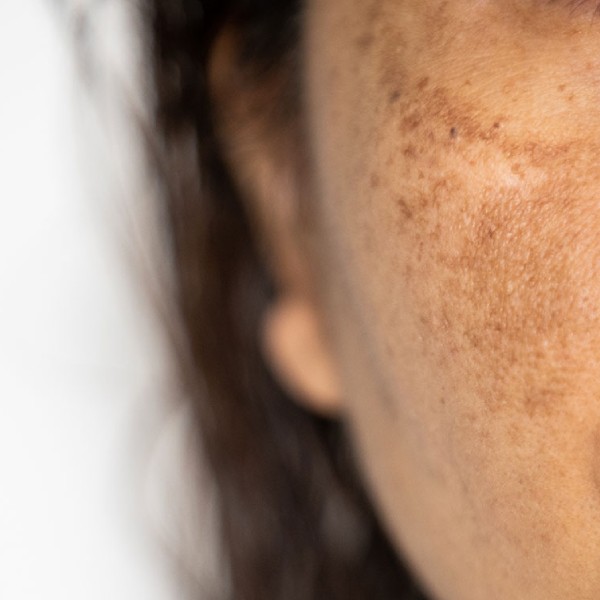 Melasma causes dark, discolored patches on your skin that typically occur on the face and is symmetrical. Melasma is more common in women than in men, with an onset typically between the ages of 20 and 40 years. These patches appear darker than your usual skin color.
Melasma can appear on:
Cheeks
Forehead
Nose
Chin
Neck
Other areas of your body that are often exposed to sun can also develop melasma.
The goal of treating melasma is to decrease how much pigment your body makes and even out your skin tone, restoring it to your natural color. At Evolution Laser Clinic, we offer a range of cosmeceutical skin treatments that gently reduce the appearance of pigmentation and helps prevent future skin discolouration.
Book your melasma treatment in Sydney today
Whether you've been thinking about treating discolouration and hyperpigmentation on your skin for some time or you've just noticed some dark patches you'd like to deal with, our team can help.
No matter your current skin concerns or aesthetic goals, we'll tailor a bespoke melasma treatment plan to meet your needs and eradicate your complexion concerns. Talk to us about booking an initial consultation to give you the more radiant and even-toned skin you've been dreaming of.
Skin Peels (Face)
WAS
NOW
Ageless Peel
$149
$74.5
Pigment Peel
$149
$74.5
Ultimate Peel
$199
$99.5
Skin Peels Add-ons
SINGLE PRICE
Hand Peel
$15
Neck & Decolletage
$40
Neck Peel
$20
Skin Needling
WAS
NOW
Back
$389
$194.5
Breasts
$219
$109.5
Buttocks
$319
$159.5
Decolletage
$219
$109.5
Face
$299
$149.5
Face & Neck
$399
$199.5
Hands
$139
$69.5
Hips
$319
$159.5
Neck
$219
$109.5
Stomach
$319
$159.5
Upper Back
$319
$159.5
Skin Needling Add-ons
SINGLE PRICE
Super Serum Infusion
$30
Swipe through to see our before and afters of our melasma treatment
The melasma before and after images below showcase the effect of our medical grade skin treatments and how they can gently reduce the appearance of melasma and help prevent future skin discolouration.
Frequently Asked Questions