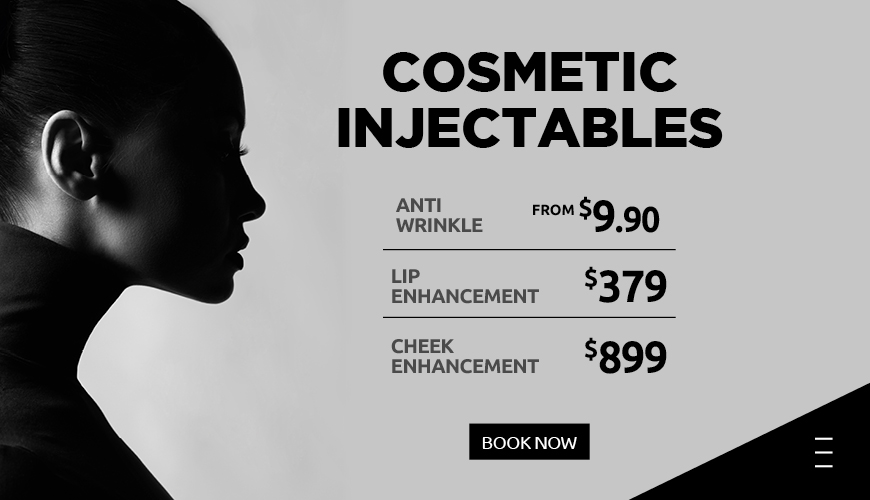 Cosmetic Injection Prices
Packages starting from $99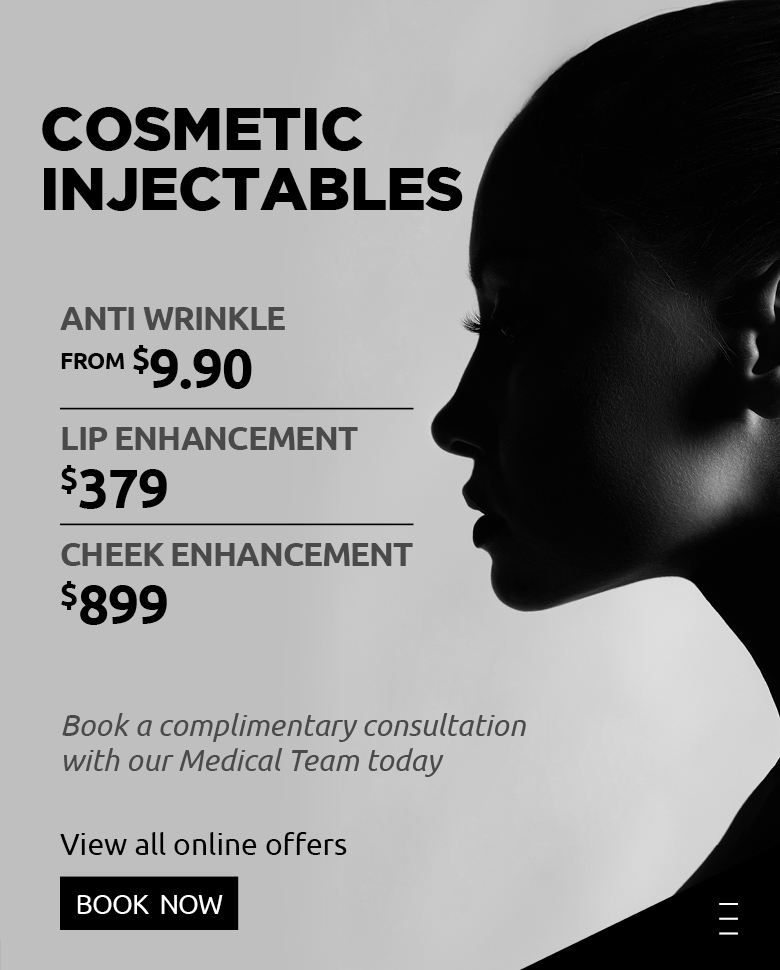 Cosmetic Injection Prices
Packages starting from $99
PDO THREADS
REGULAR PRICE
LAUNCH SALE
MONO THREAD
Smile Lines
$350
$299
Upper Lip Area
$350
$299
Cheeks
$600
$499
Marionette
$350
$299
Double Chin
$600
$499
Crows Feet
$350
$299
Tear Trough
$350
$299
Jaw
$600
$499
DOUBLE SCREW
Brow with Double Thread
$600
$349
Frown Line with Double Thread
$600
$349
ADD ONS
Add on Mono Thread
$200
$149
Add on Double Thread
$600
$299
ANTI-WRINKLE INJECTIONS
PRICE
Option 1
From $9.90
Option 2
$3.95
ANTI-WRINKLE PACKAGES
PRICES FROM
Forehead
$99
Frown
$199
Crows Feet
$199
Treatment of 2 areas
$345
Treatment of 3 areas
$489
ELC TOP PICKS
PRICE
Lip Enhancement
$379
Under-Eye Circle Treatment
$499
Cheek Enhancement
$899
FRESHEN UP PACKAGE
PRICE

1 of any filler

For a subtle yet beautiful and natural looking result by enhancing lost definition and revolumising the face. Treat any area below.

Jaw
Cheeks
Lips
Chin
Fine lines
Tear troughs

$499
SculptIT Upgrade
+ $100
MINI FACELIFT PACKAGE
PRICE

2 of any filler

Non surgical solution to create a rested, more volume enhanced lift to the face. The results of this package are effective and as the tagline says "everyone will notice, but no one will know". Treat any area below.

Jaw
Cheeks
Lips
Chin
Fine lines
Tear troughs

$899
SculptIT Upgrade
+ $200
FULL FACE SCULPT PACKAGE
PRICE

3 of any filler

For longer lasting results. Improve the overall contour of your face volume enhancements and sculpting. The "Full Face Sculpt" impacts a long-lasting treatment through its exceptional composition helping you achieve a more youthful appearance. Treat any area below.

Jaw
Cheeks
Lips
Chin
Fine lines
Tear troughs

$1199
SculptIT Upgrade
+ $300
NEW LIQUID FACELIFT PACKAGE
PRICE
5 of any filler + 1 Skin Booster
The ultimate filler package delivering a full contour and youthful appearance.

BONUS evolveMD Prescribed Trio Kit and LED skin treatment

$2499
NEW HAY SPRAY
PRICE
Hay Spray
$249
Customise your ideal package today. Call your nearest ELC clinic or visit evolutionlaser.com.au and book your complimentary consultation TODAY! #OnlyATELC
Due to regulatory requirements we are unable to specify product names, brands and quantities. The lasting results of both Anti-wrinkle and dermal filler may differ between clients and is dependent on many factors such as muscle tone, lifestyle and age. 
A consultation with one of our experienced cosmetic injectable nurses is required to determine the appropriate treatment and dose for each client. Prices may vary depending on each individual.
**Treatment not available in all clinics.
All prices are displayed as rounded whole numbers. Actual prices will be slightly less when purchased. All pre-paid treatment will expire 24 months from the date of purchase.
View our cancellation and refund policy here