PDO THREADS
REGULAR PRICE
SALE
MONO THREAD
Smile Lines
$350
$299
Upper Lip Area
$350
$299
Cheeks
$600
$499
Marionette
$350
$299
Chin
$600
$499
Crows Feet
$350
$299
Tear Trough
$350
$299
Jaw
$600
$499
DOUBLE SCREW
Brow with Double Thread
$600
$349
Frown Line with Double Thread
$600
$349
ADD ONS
Add on Mono Thread
$200
$149
Add on Double Thread
$600
$299
ANTI-WRINKLE INJECTIONS
PRICE
Option 1
From $9.90
Option 2
$3.95
Option 3
$9.90
Due to regulatory requirements we are unable to specify brand names. Please contact your nearest ELC to discuss our 3 product options. 
ANTI-WRINKLE AREAS
PRICES FROM
Forehead
$99
Frown
$199
Crows Feet
$199
Treatment of 2 areas
$359
Treatment of 3 areas
$519
ELC TOP PICKS
PRICE
Lip Filler
$379
Under-Eye Circle Treatment
$499
Cheek Filler
$899
NEW HAY SPRAY
PRICE
Hay Spray
$249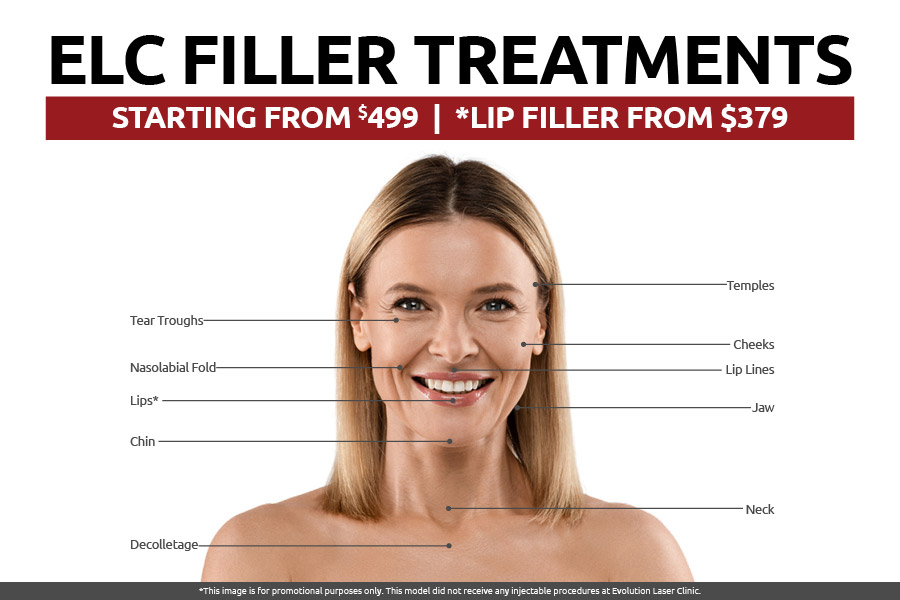 Call your nearest ELC clinic or visit evolutionlaser.com.au and book your complimentary consultation TODAY! #OnlyATELC
Due to regulatory requirements we are unable to specify product names, brands and quantities. The lasting results of both Anti-wrinkle and dermal filler may differ between clients and is dependent on many factors such as muscle tone, lifestyle and age. 
A consultation with one of our experienced cosmetic injectable nurses is required to determine the appropriate treatment and dose for each client. Prices may vary depending on each individual.
**Treatment not available in all clinics.
All prices are displayed as rounded whole numbers. Actual prices will be slightly less when purchased. All pre-paid treatment will expire 24 months from the date of purchase.
View our cancellation and refund policy here